I hope you enjoyed the quick photo tour of baby Bea's nursery last week. Personally, I cannot get enough of her room, and that is my completely objective stance on the matter.
I have been wanting to talk about the art in Bea's room for a while. The walls were bare when she was born, but she has accumulated quite the collection of wall dressing since then.

We were hesitant to hang anything on the walls for the longest time. Weeks of patching, priming, and painting can do that to a person! I actually started to love the simplicity of the clean and uncluttered walls, but I knew I wanted Bea surrounded by more color, more stimulation, and more inspiration. We finally got the ball rolling when Bea was a few months old.
(Flashback to the good ol' days when she would just stay put in precarious positions!)
Here's a rundown of how and why we chose the decor we did! First up is the most important: sleep inspiration.
My Aunt Sherye sent this ceramic "Shhh … baby's dreaming" sign to us when Bea was born, and the message is perfect because, obviously, I want Bea sleeping and dreaming as much as possible. (Unfortunately, Beatrice is too busy laughing at me from her favorite playpen — the crib — to actually sleep!)
We have the sign hanging on the outside of the door to her room — you can see part of it in the photo of the nursery below — and I backed it with felt so that it does not defeat its purpose and wake her up every time I open the door.
On the left is a series of three illustrations by Naoko Stoop (her Etsy shop is here) of the Red Knit Cap Girl
. Our friends Feld and Jeff sent them when Beatrice was born, and I love the simple and imaginative drawings that tell the story of a little girl who sets off with her bunny on a journey to meet the moon. The entire collection in this series is incredible. I really recommend checking out her shop just to look through them all. This little heroine is so determined that it brings tears to my eyes!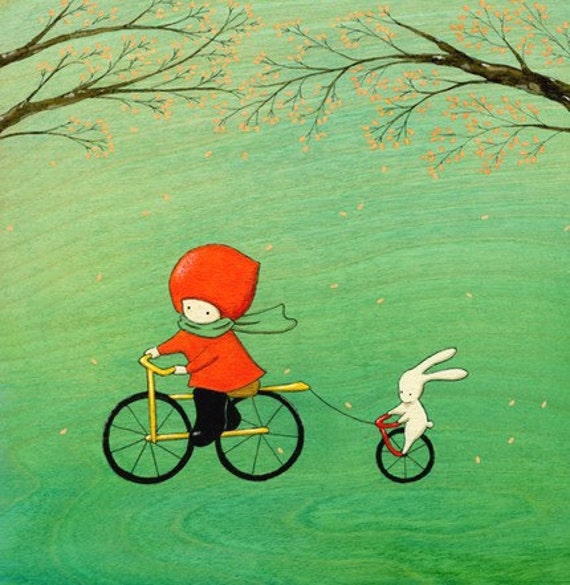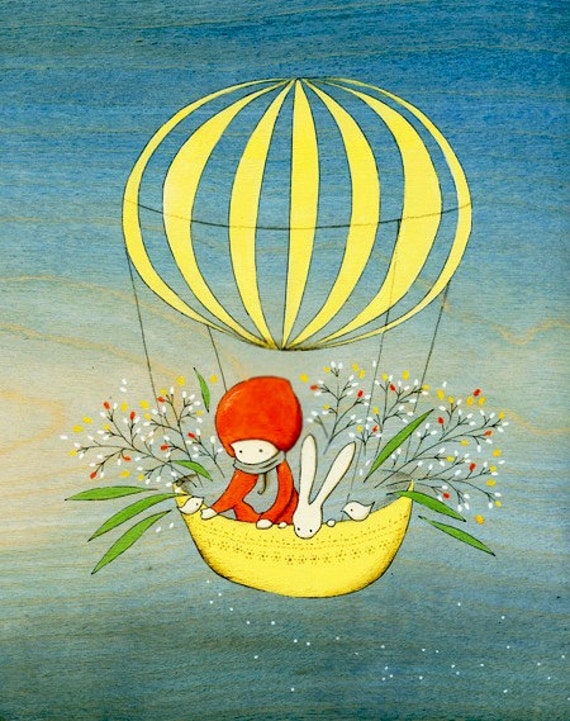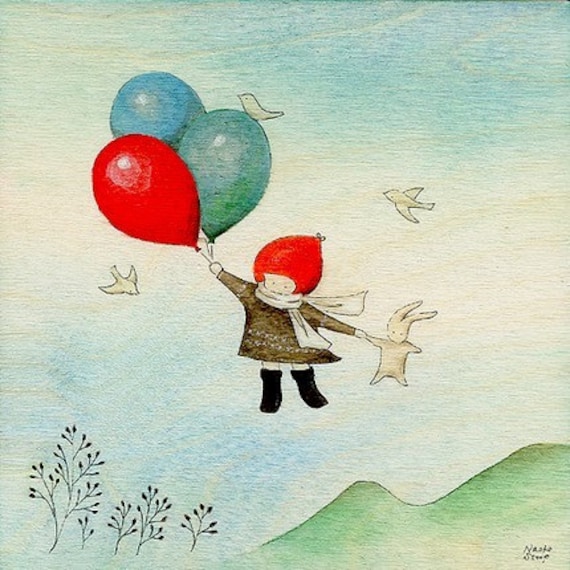 My mom gave Bea the sweet aqua capiz wind chime below as a Solstice gift, and we hung it above the changing table for distraction (only effective 0.5% of the time) and aesthetics. You'll also notice the "queen bee" card from this set of alphabet flash cards
(a baby shower gift from Erik's cousins) and our actual baby shower invitation designed by my creative and talented friend Steph.
If you click on the photo above, you can see the invitation more clearly. I love the rhymes and think Bea will have fun with them as she gets older.
Side note: I sometimes fear that Bea is taking the Queen Bee card a bit too much to heart, given the way she acts when I am changing her diaper these days. However, the problem is more likely with me because I have not started to do this yet.
We have had the hardest time figuring out what to hang above the changing table, especially since this is also the view you see upon walking into our apartment if the nursery door is open.
Knowing that we had a squirmy baby on our hands, I did not want to hang anything that could fall and squash her. The space was empty until about a month ago, aside from a failed attempt to hang a tapestry made from a yard of super sweet IKEA lovebird fabric. I love the fabric and still have it, but it just didn't feel right in this room.
I had the idea of hanging some local block-printed art there after visiting the Folly Cove Designers exhibit at the Cape Ann Museum last summer. I love the story (read it here!) of the industrious local women responsible for the gorgeous prints, which are total collectors' items now.
I obsessively stalked The Sarah Elizabeth Shop (which has ties to Folly Cove) on Etsy, but I couldn't justify the cost of anything until we visited the actual shop during its post-holiday sale. We found this stunning gold-on-teal heritage quilt print on super sale, and it had Bea's name all over it.
To the right of the block print is an oil painting of a Viking ship, titled Final Light at Sea, a nod to Erik's Norwegian heritage and home state of Minnesota:
Don't tell the Vikings, but Erik is actually a crazy Pats fan now. He's gotten addicted to the feeling of rooting for a winning team :-).
We found the painting at the famed Ingebretsen's when we were in MN in December, and Erik's mom got it for Bea's room because we loved it so much.
(Awkward and cold proof we were there!)
The colors and the sense of adventure in the painting fit the mood we were trying to set. I do have some, errr, mixed feelings about the Vikings' stance on kindness and compassion, so this piece will be a good starting point for a chat with a more mature Beatrice at some point down the line.
Over by the crib are three more alphabet flash cards from the set I mentioned above. The colors and ocean theme were a perfect match for Bea's seaside nursery.
I made the mobile with two embroidery hoops, twine, a bunch of free hardware store paint swatches, and lots of hot glue. My mom came to visit one day when Beatrice was about a month old, so while grammy and Bea were enjoying a rare peaceful moment …
… I was hard at work.
I matched pairs of similarly-colored swatches and held them together right-sides-out to freehand cut the biggest circle each swatch would allow. I arranged everything on the floor and then cut a piece of twine for each strand of circles. I glued the twine between the circles so that it would be invisible and create double-sided strands. That probably sounds complicated due to my poor explanation, but it was pretty simple in the moment.
A coworker had given me the little birdy music box, all that was left from her grandbaby's old crib mobile. I attached my mobile to the music box with twine and hung the whole thing from a plant hanger. Thanks to the music box, the mobile turns slowly to hypnotize Beatrice while singing her to sleep.
At one point, we went through a phase of trying to dress up the back wall behind the crib. Similarly to the changing table situation, we didn't want anything there that could crash onto Bea's head and cause serious damage.
I had a gorgeous piece of fabric (actually a tablecloth!) that my friend Laura had used to wrap our baby shower gift. The colors and size were perfect for that wall, but we ultimately decided that it looked too busy and took it down, so the wall is still blank for now.
Hanging at the foot of Bea's crib is a quilt that my grandma Lil made for me when I was a baby. She would find scraps of fabric that she liked and quilt along the fabric print itself (called "trapunto") to make the illustrations pop. Another trapunto masterpiece, this one from a close friend of my mom) from my childhood is hanging above the glider.
To the right of the crib are two fun prints from the HillaryBird shop on Etsy.
(Aww, so glad Bea has finally outgrown her old man hairline!)
My sweet friend Penno, along with Bea's little buddy Layla, sent these prints when Bea was born: "The Campout" and "The Journey Ahead."
If you haven't noticed a theme, I again fell in love with these prints for their sense of adventure. I actually found the campout print online when I was pregnant, and it made me wish that I were having a girl (I was 98% sure I was pregnant with a boy, ha!) so I could get it for her room. The print is full of imagination, mischief, and fun, which perfectly suits my little daredevil.
I can tell that Bea has been studying the art in her room quite seriously since she seems totally fearless in the face of new endeavors.
My wish is that Bea grows up brave, confident, kind, creative, and full of imagination. I am going to go out on a limb and assume that all parents have similar wishes for their children. I think we are off to a good start …
(Photo Credit: John Heiner)
I would love to hear about your favorite pieces of inspirational and fun baby art, so please (PLEASE!) comment below with your input :-D.